Update 12/20/22: Meet our Deaf Dogs Rock Star of The Week Pinks who has been patiently waiting for a loving forever home of her own.
Hearing is for suckers, anyways.
Pinks sure doesn't miss it! This young adult American Bully hasn't even noticed she is deaf. She still manages to be one very spunky dog just waiting to get all the best things in life. She is a big girl, but walks well on a leash (check out her YouTube video).
She would love a home where she gets to play. A lot. Like so much playtime. Walks and stuff is cool too. She likes toys so much she might just eat them if left unattended with them.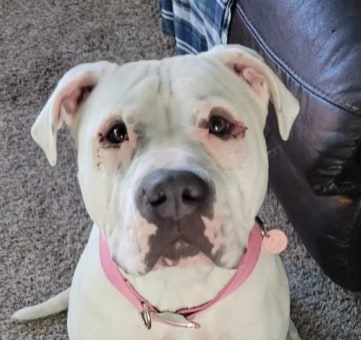 Pinks is in foster care with other dogs, but can be slightly selective about her doggie playmates. She has a lot of energy, and between that and her size, she can be a little intimidating to other dogs. She is around a cat in foster care as well, and although she isn't aggressive, she does like to play chase, so any cats in her forever home would need to be fairly dog-savvy. With kids, again no aggression, but she will steal their snacks with ninja-like precision, and with all that energy, smaller kids might get knocked down, so older kids would be better for her.
If you're looking for a mischievous, goofy dog to be your best pal, look no further. She may need a little training as far as her manners go, but being the one to do that with her just deepens your bond. She is fixed, chipped, and up to date on rabies, distemper/parvo, and kennel cough vaccines, as well as heartworm prevention. Her fee is $300 and applications can be found at fromforgottentoforever.com/adoptionapplication/
New video of Pinks in Co on YouTube 12/20/22
6/27/22: We have a special one this time y'all, This gal is 100% deaf. She has not the slightest idea and it does not seem to hinder her amazing spirit for life!
Meet the prettiest girl of them all, Pinks. At just 18 months old, this girl is full of spunk and energy. A gorgeous American bully, Pinks needs a active home. She loves to run and play with friends of similar size. She's a decent size gal at around 75 lbs. She loves any and all toys but also loves to eat them. She is mischievous and silly, you are guaranteed to fall in love with her when you meet her.

She needs a little help with basic training and manners and a daily structured routine. She is a giant puppy and her personality totally shows it in her exuberance.
Pinks is good with other dogs, she likes to chase cats, and she is good with children. We recommend a home with kids 10 and older as she has no idea how big she is and she's a mini bull in a China shop.

Her adoption fee to an approved home is $300 and for that she comes chipped, spayed, fecal and heartworm tested, and current on rabies, distemper/parvo, kennel cough, and heartworm prevention. Currently in Alamosa, Colorado, with transport to many parts of the state possible.