Meet adoptable deaf Mini Australian Shepherd Junior who is looking for a loving forever home with someone who will cherish him, teach him new sign cues and always keep him safe.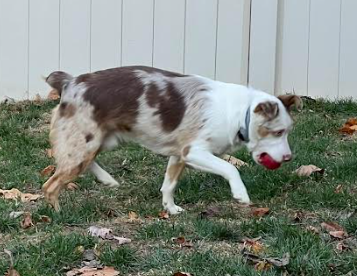 From his shelter advocate: Junior is an 18-month-old Miniature Australian Shepherd who is deaf and cross-eyed. He has been neutered and is negative for heartworm. He is house broken rings a bell on the doorknob to go outside. He is full of energy and loves to play fetch in the yard.
He is fearful in the shelter environment so he acts out by be protective of his kennel and shows his fear in the form of barrier aggressive but, in the yard, he has no issues. He seems to get along with cats and other dogs (we do not have a lot of exposure to other dogs or cats). We have working on socializing him with our volunteers.
Junior was left at our facility (Boarding Kennel) by the previous owner and has surrendered him to us.