It gives me great pleasure to add Deaf Dog Rescue of America run by Lisa and Mark Tipton to our Rescue Warriors page. They are true deaf dog advocates and work night and day saving deaf dogs all over the country.  According to my deaf dogs Nitro, Bud, Bowie and myself, they totally ROCK!
Enjoy their story! ~ Christina Lee – Deaf Dogs Rock
Photo above: Mark Tipton (L) and Lisa Tipton (R)
 Lisa and Mark Tipton opened the Deaf Dog Rescue of America in So. California to rescue, train and re-home deaf dogs in danger of euthanasia. Today Lisa and Mark Tipton are the biggest advocates for deaf dogs on the West Coast. Lisa and Mark work tirelessly 24/7 running a very busy deaf dog rescue ranch in Southern California. The Deaf Dog Ranch relies on the kindness and generosity of others to keep their rescue running smoothly. If you would like to help support their wonderful cause, please click here to donate to Deaf Dog Rescue of American.
On a side note: On May 6, 2014 Mark and Lisa Tipton were featured on The Queen Latifah Show where they received a $1000 cash donation from Queen Latifah!
Here is a little information I grabbed off their website so you can see for yourself what their mission is with saving deaf dogs and lowering the euthanasia rates in the Los Angeles and Kern County areas. Below their information are a few questions I sent to Lisa Tipton so we can get an idea of how the Deaf Dog Rescue of American ranch operates on a daily basis.
According to my two deaf dogs Nitro, Bud, my husband Chris, and myself, the Tipton's are our Deaf Dogs ROCK STAR Heros for their work in saving deaf dogs! ~ Christina Lee – Deaf Dogs Rock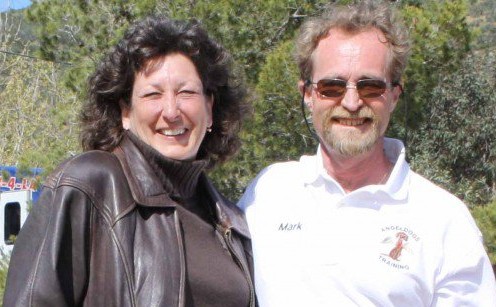 Lisa and Mark Tipton
Deaf Dog Rescue of America
The Deaf Dog Rescue of American is the first, all-breed rescue ranch for deaf dogs in the country, we are contacted by various shelters, people and organizations from across the U.S, to help save the lives of these dogs with one of the most common, yet unrecognizable and/or misdiagnosed issues found in all breeds, and slated for euthanasia.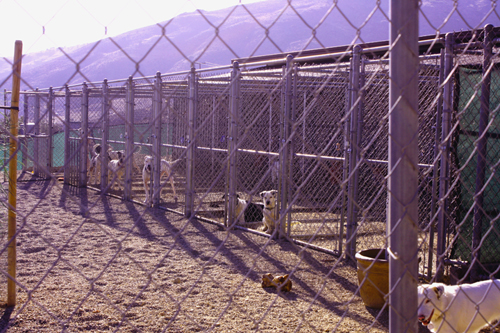 These dogs, often the first on a shelter's red list, have proven to be quite special. When properly assessed and trained using ASL and other techniques, these dogs blossom to become exceptional companions. While with us, our dogs are cared for in a climate-controlled indoor/outdoor kennel where they receive top-quality food, training, and loving care until they find forever homes. We provide post-adoption training to help create a positive transition into their new forever home. Deaf dogs are highly bonded, smart, affectionate, easy to train, and eager to please.
Each member of the Deaf Dog Rescue of America team recognizes that it's not just a job, it's a mission. We are all committed to improving the lives of companion animals and their people. Our services help prevent loss of life, and create safer communities in some of the most challenged neighborhoods in Los Angeles and Kern Counties.
My interview questions for Lisa Tipton of the Deaf Dog Rescue of America in California – By Christina Lee – Deaf Dogs Rock
How many deaf dogs do you have at home and how many hearing (your personal dogs)?
We have three deaf dogs of our own: Buttons, an American Bulldog/Dalmation mix from Mt. Vernon, NY, Janus is a purebred deaf white and blue Staffordshire Terrier who came from the California City, and then Irvine, CA shelters, and Zippy, a deaf Cattledog/White German Shepherd mix from the Lake Isabella, CA shelter. We also have two hearing dogs, Sally, our Chesapeake Bay Retriever/Golden Retriever mix from Chattanooga TN, and Little Bear, our Chesapeake Bay Retriever from Sacramento, CA. All of our dogs are adopted, are from all over the country, former shelter dogs.
What gave you the idea to do a deaf dog rescue?
We got a call from a very rural shelter in Kern County asking for owner information on a micro-chipped deaf pit bull. I looked up the record and gave it to shelter staff so that they could get the dog home. The owner refused to pay to get her dog out of the shelter, and screamed at the staff. She left her there to die. I begged pit bull rescues to take her, even offering up a large donation – everyone was full. One rescuer said "Take her. You are meant to take her." So we drove up to the shelter and pulled her. The shelter manager named her Angel, after our org. She was a muscular white pit bull with cut ears, a formidable-looking dog. I put her into the back of the truck, shielding my face from a possible bite from an unknown dog, as I buckled her in.
Angel kept looking at me with her beautiful green eyes in a peculiar way, so I dropped the arm protecting my face. She tenderly kissed my face. This special kiss was an obvious way of thanking me for pulling her to safety. I was instantly smitten with her, and she sweetly and slowly kissed me again, just to make sure I got the message. I realized at that very moment that I didn't need to communicate with her verbally. Over the next few months, Angel taught us how to communicate with deaf dogs. In the year that she was with us, she mentored quite a few deaf pups, teaching them the house rules, how to use the dog door, and their pack skills. She is an amazing dog. It took a while to find Angel the perfect home – we adored her and we were very picky about her new forever family. She now lives with one of the former Bob Barker Girls from The Price is Right and rarely leaves her side. Her new mommy thinks she is just as special as we do, and she is doted upon and very loved.
What where you doing before the ranch opened up?
We opened the ranch in mid- June of 2012. Prior to that, we ran the mobile spay and neuter program out of our home. We had twelve dogs in the house, two of them hearing- a full-time job in itself! We referred to the deaf dogs as "The White Elephants", and the hearing dogs are the "Brown Clowns". Moving to the Ranch meant that we could help more deaf dogs, as we now have indoor/outdoor climate controlled kennels and full-time staff. We anticipated that having a place for adopters to meet dogs would help more deaf dogs into homes. It's a great place for volunteers to visit, too.
What are your day to day operations like?
The kennel opens every day at 7am, and breakfast time commences. Everyone gets a diet best for them, even if we have to make it ourselves. Some of our dogs have allergies, and they are fed a raw diet so that we can control the ingredients. Allergies are very common in deaf dogs. We clean and scrub up after everyone, do the laundry so that everyone has a cushy clean blanket every night. Each dog gets time in the play yards, and if we are able to pair or group them for playtime, we do. Every day each dog is given a different toy or something to chew on that varies from a stuffed Kong, a bone, a hoof, to keep them interested and happy. Dinner is served at 4pm to give the dogs time to get ready for bedtime. We stick to a pretty strict schedule around here to give the dogs stability and consistency. Everyone sleeps inside at night, so that they are warm and comfy with a wood pellet stove roaring on cold nights to keep the kennel building warm. When the weather is hot, there are swamp coolers and mister systems to keep everyone comfortable.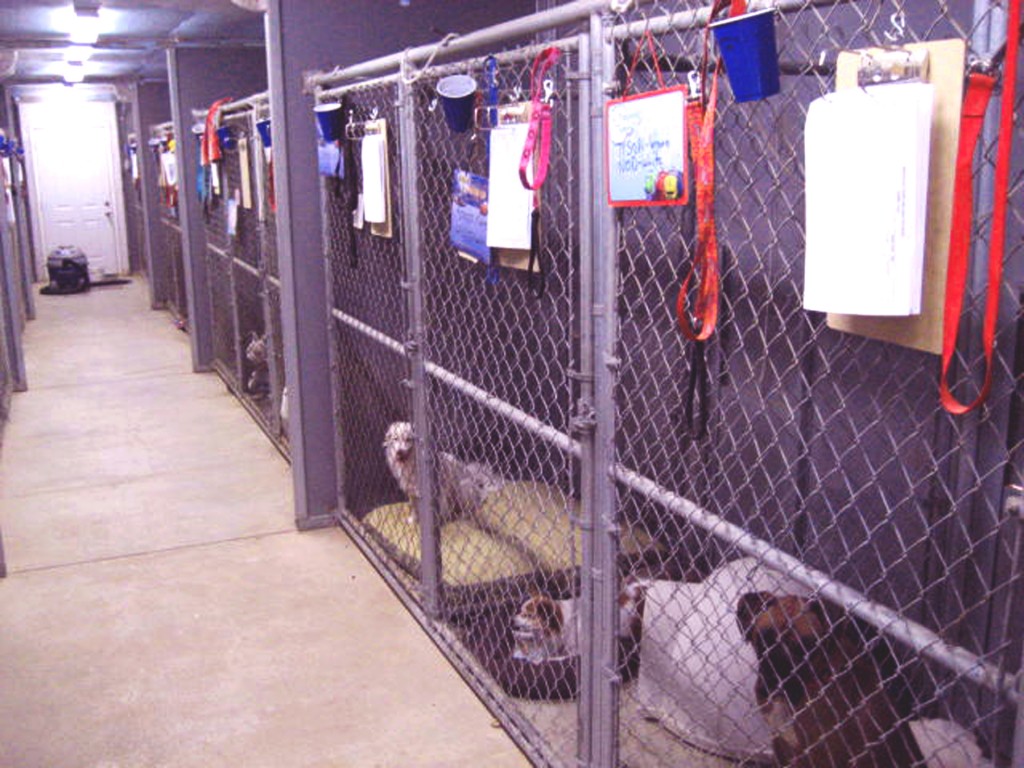 Our staff stays pretty busy here making treats, making food for special diets, scrubbing something constantly, cleaning ears, staying ahead of weeds and unwelcome critters, maintaining the property for safety, taking pictures of the dogs for listings, and working with them to make them adoptable, teach them their manners, and ready them for homes.
How many staff and volunteers do you have?
Gosh, we look little, but it takes a lot of very caring and dedicated hands to do this work, and do it really well. We have two full-time kennel assistants, a handy person, admin people, and a veterinary staff for the mobile clinic. I think we are 20+ people. Many of us work the clock around, as we deal with life and death here, and the welfare of our deaf dogs 24/7. There are no days off, and we are never closed. We are an org that takes a lot of pride in providing the best for our rescue dogs, and also for the pets in the community. And we do it all with a smile. We focus on customer service in a big way. I'm sure that our staff is really sick of hearing "It's not just a job, it's a mission." Nobody's rolled their eyes at me yet, though.
How many deaf dogs are currently at the ranch?
There are currently 28 deaf dogs at the Ranch, and several more in foster homes. That number varies up and down. We have 24 kennels. Sometimes if the dogs are small or are puppies, they can share kennels. We try to make room for as many dogs as we can with 24 kennels. We have to say no at least ten times a day due to lack of space, which is absolutely heartbreaking. Most of the dogs that we receive pleas on are in shelters where they are not safe. They could be killed at any time, and will be first on the euthanasia list due to their deafness being viewed as a disability. Right now, we're getting flooded with emails about deaf puppies because dogs normally go into heat in November/December. There are many deaf puppies out there in need of safe harbor that are three to four months old, highly adoptable, and we have no room at the inn.
Photo: Lisa Tipton getting love from one of the deaf bullies at the Deaf Dog Rescue of America Deaf Dog Ranch
To view deaf dogs up for adoption at the Deaf Dog Rescue Ranch, please click here.
Do you have special trainers who work to teach the dogs signs?
My husband, Mark Tipton, CPDT-KA specializes in deaf dog training. He's very talented at hearing dog training, too, and specializes in positive reinforcement methods taught to him by Paul Owens, author of the book "The Dog Whisperer". We also have volunteer trainers that visit on a regular basis to work with the dogs and learn Mark's methods.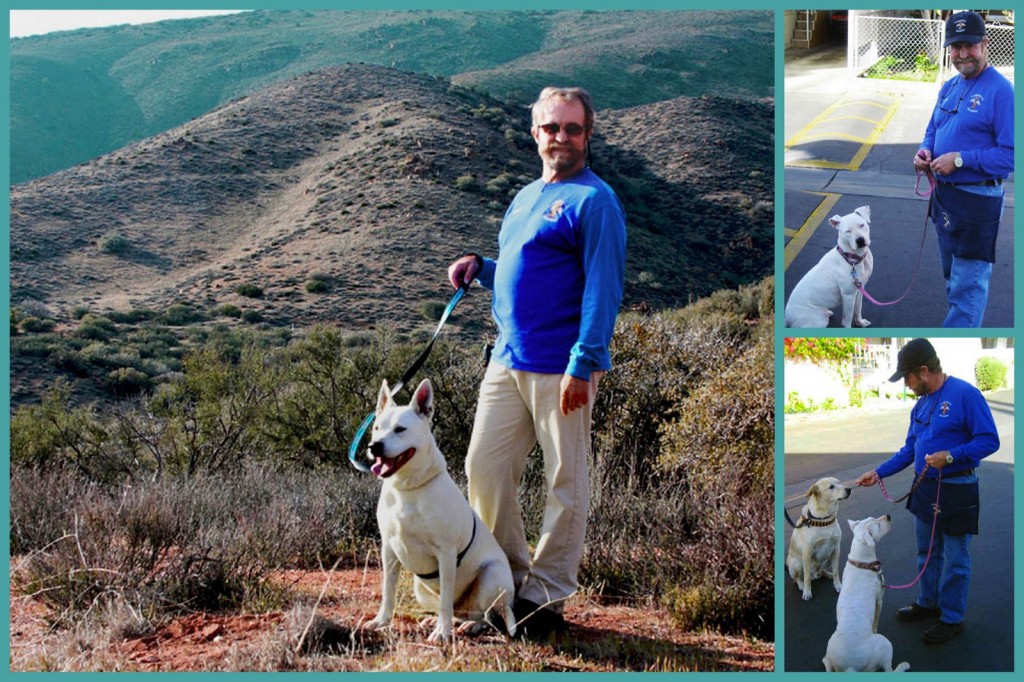 What are your goals over the next few years?
Lots of goals here…..we'd like to buy the property that we're inhabiting, double our kennel space and build a small veterinary clinic and offices/storage on the premises so that we aren't tortured by saying no to highly adoptable dogs that have no safe place to go. We also plan to start a mentor trainer program so that more dog trainers learn how to communicate with deaf dogs by positive reinforcement methods. It's disheartening for us to hear from people across the country that they can't find a trainer who will help them with their deaf dog. They are actually easier to train than hearing dogs, and we've never met a deaf dog that isn't exceptionally smart.
How can people donate to Deaf Dog of American Rescue Ranch if they want?
For mailed donations: AngelDogs Foundation, 18723 Via Princessa, Ste. 147, Santa Clarita, CA 91387 or they can go to our Deaf Dog Rescue of American website and click on the donate button.
How much dog food do you go through a month?
We go through about a pallet and a half of dog food every month. That's about 1500 pounds of food. We make sure that our dogs eat very high quality food, have plenty of treats to keep them healthy and happy. When you have a dog in your home, your pup knows that each evening they will get some attention and snuggle time, or a daily walk. To a rescued kennel dog waiting for a loving permanent home, meal-times are extra important while they are waiting for homes. It's one of the highlights of their day.
What are some of the biggest challenges you face at the Rescue Ranch?
Our biggest challenge is always funding. Rescue is expensive, and we care for the dogs the very best that we can. The dogs usually come to us in poor condition, and we restore them to health, both mentally and physically. Some of our other challenges are the need for volunteers. Our deafies thrive on love, and are happiest when they have company, even if it's just someone sitting with them in their kennel, petting them while they drape themselves across the volunteer's lap. The deaf dogs are very Velcro and tactile and they are very affectionate and adore people. Another one of our challenges is getting the word out about how wonderful deaf dogs are, so that we attract more adopters. Until we had our first deaf dog, we had no idea what fantastic companions they are – our deaf dogs communicate with us on a whole new level, and it's a very deep relationship to have with a beloved pet.
What other projects do you have in the works at the Deaf Dog Rescue Ranch? 
We have lots of projects around here that need sponsors or funding. We have three patio covers to build, so that we have a shady place for people to meet dogs when it's brutally hot in the desert, and unfortunately, building codes out here in the desert are very strict, which makes the materials very expensive and to community-standard fire-code. Our bids total 30K, which is horrifying. We also want to put in a fenced area for group training classes, so that each of our adopted deafies can have a whole group class that is free and included with their adoption. The area is away from the kennel, so that there are less distractions. We currently offer two private sessions, which isn't enough with each adoption, and we've decided that five classes will serve better, help the dogs learn more, and help the new owners connect with each other, too. We also need to plant more trees for shade up here….we're on ten desert acres with (literally) ten trees.
What are some of the items folks can donate in your area to help with daily operations? 
We always need blankets and towels, and use them both on the mobile clinic and for the deaf dogs to sleep on. Dog beds are another item we always need, large ones especially. Chewy treats that are long-lasting are another biggie, such as raw-hides, bones, bully sticks, pig or cow ears, hooves, antlers, etc. Our wish list is also on the website. Our washer and dryer run 12 hours a day. We always need laundry detergent and bleach. Costco, Home Depot and Lowe's gift cards are also really wonderful…we buy our building supplies, cleaning supplies and dog beds in these stores.